Oslo World UNG: Eddy & Zino, El Far3i, Giddy Gang, Ruzh, HIWÁ, Project90, DJ PVCIFY
06. til 06. November 2021
Palestinian hip hop and some of our favorites from the Norwegian scene.
Oslo World Youth repeats last year's success with a full evening of music to die for! Two concerts with the exact same program, one for those under 18 and one for those over.
18.00: U18
Lineup: El Far3i, Giddy Gang, Ruzh, HIWÁ

21:30: 18+
Lineup: Eddy & Zino, El Far3i, Giddy Gang, Ruzh, HIWÁ + DJs: Project90 and DJ PVCIFY

Eddy & Zino were born in the U.K to a Gambian mother. As children they would flit around Nottingham and London until they finally settled down in Oslo, Norway. Due to their multinational background, their musicality has naturally anchored in these places.
Their lyrical universe is constructed from Norwegian and English colloquialism and exudes a youthful bravado. The inspiration behind their sonic choices derives from various hip hop scenes in the U.K - beefed up with a hint of Gambia in the percussion.
If you listen closely, you'll hear qualities that cannot be ascribed to anyone other than Eddy & Zino.

El Far3i is best known as the co-founder, vocalist and percussionist of 47SOUL. Deep lyrical capabilities and versatile flow has allowed him to blend Arabic vocals with rap, creating an original sound. His lyrics describe the political and personal aspects of Arab daily life and the diaspora. El Far3i's grass-roots approach to music projects, and his belief in the importance of solidifying, growing and evolving different independent scenes, has resulted in numerous collaborations with the Arab World's top rappers, songwriters and producers. Over the past decade, El Far3i has blown minds at Oslo World before. Now it's the youth's turn.

To feel "Giddy" means to feel laughable and happy and it is these feelings that GiddyGang wants the listeners to feel when they hear the music. With their blend of hip hop and jazz, GiddyGang is on a mission to make the world a more giddy place!

Originally from the small city of Batangas in the Philippines, Ruzh came to Norway together with his two older brothers at the age of 9. Growing up in a new world made Ruzh aware of the many nuances in the different cultures around him. After a short stint as a pro-basketball player, music became the priority for the charismatic Pinoy-Norwegian singer. After debuting with his first ever single, "In Too Deep" produced by the rising star PVCIFY, Pogi aka Ruzh is set to take the north by storm.
Ruzh hopes to serve as an ambassador for Asian youth around the globe. Asian representation through art, fashion and music is important in his work. "I just feel there's a void there in terms of people that look like me, and I would love to help change that through my music".


Born to kurdish parents who came to the north as refugees, Hiwá never fails to remember his roots and all the sacrifices made on the way. Hoping to unite and uplift through his art, the Oslo-native is in the process of changing the lack of representation for middle-eastern creatives. "I've learned that no one will give you a seat at their table, so you have to build your own. Only through building our own tables, can we own the building." Alongside producer/engineer PVCIFY, Hiwá delivers a soundscape where the Middle-East meets the cold north.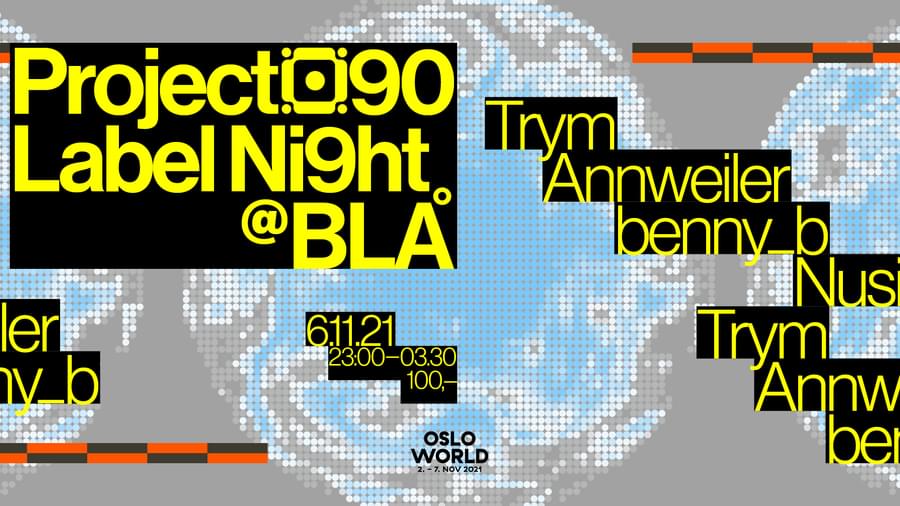 Klubb: Project90
Project90 is a young label from Oppsal which has both roots and exploration in boundless club music from Oslo and beyond. The imprint has in less than a year established itself with six key releases exploring the range of jungle, techno and trance. Besides championing the underground club scene through its releases, Trym and Nusi also puts on regular parties in Oslo. For this occasion it will host a label night showcasing their passion for high-energy and uncompromising club sounds along with benny_b and Annweiler. See you in the dance!
Event dates